On our road trip through South Africa over the last few months, we've seen some quirky places and had some fun experiences.
We've played dodge the rain quite a bit. Much of the country has summer rain. In Kruger, there was so much rain that some roads were cut off and tourists were airlifted to safety. And it managed to rain through most of the UN's Climate Change Conference in Durban. I do hope the delegates managed to find time to have one of Durban's famous 'bunny chows' – half a loaf of bread, hollowed out and filled with curries of your choice. Yum!
I also hope the delegates managed to find their way around town. Durban appears to be on a mass road re-naming mission. Easy to read street names such as Berea Road and Marriott Road have been changed to King Dinuzulu Road North and Gladys Mazibuko Road. Given the city has some of the worst driving we've seen in Africa, the last thing that's needed is bad and confused drivers!
We've been to a number of off-the-beaten-track quirky South African villages, surrounded by mountains, and accessed by dirt roads. The small communities often make a living through farming, or some sort of manufacturing specific to that area, or though food, accommodation, arts and crafts for tourists.
Hogsback's claim to fame is that it was the inspiration for Tokein's Middle Earth landscape. And as a result, everything from B&Bs to cafes, and from pottery studios to the laundrette have adopted the mystical / fairy / ethereal theme. Some would say it's charming, others would say it's loopy. (No prizes for guessing which camp Ven was in!)
Another isolated village community was that of Wupperthal, a Moravian mission station dating back to 1830, tucked into a valley behind the imposing Cederberg mountains. As well as the small, simple houses, there's a beautiful church, a workshop making handmade shoes, and a small cafe in someone's living room. In contrast to the speed dial numbers on our mobile phones, it was a wonderful image from the past seeing the mother of the house put on her reading glasses, sit down, take out her address book, find the number, and use a telephone with an old style circular number dial.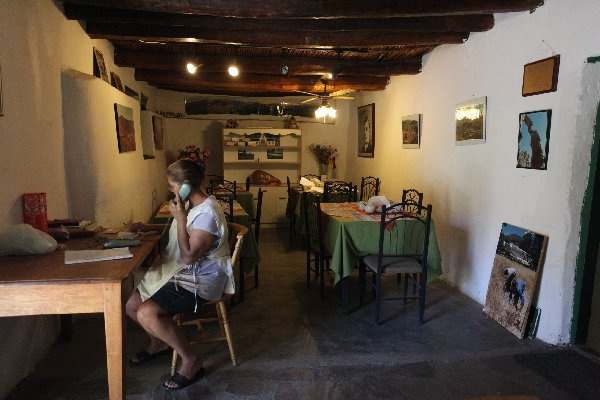 If there's an interesting road journey the South Africans will give it a name: The Cape Namibia Route (from Cape Town to Namibia), the Garden Route (through some big gardens called National Parks), the Merino and Mohair routes (presumably past different kinds of sheep) and the Owl Route. This latter consists of just one attraction – the Owl House – at the edge of a small village dwarfed by mountains on all sides. This is the house where reclusive artist Helen Martins lived. I had seen photos of her garden, full of 'outsider art' sculptures, but they don't do justice to the impact of seeing such an intensely populated space of abstract and absurd sculptures, apparently based on her dreams. Even when I was on anti-malarial Larium tablets, my dreams weren't as weird as this!
We found ourselves in Darling one morning, a small 'dorp' in the hot, dusty Swartland region. By chance, it's most famous resident was doing a show that afternoon. Pieter-Dirk Uys – comedian, writer, activist – has a well established character called Tannie Evita Bezuidenhout, a more politicised version of Dame Edna Everage. The Rainbow Nation embracing Afrikaans granny ribs politicians and gives cutting edge social commentary that often provides an accurate pulse of the nation. In a cabaret style show she takes a witty, alternative look at South Africa's history. She also takes a satirical look at current tales of corruption and crazy policies on issues such as HIV/AIDS, and you're left with a clear question on whether South Africa has lost its direction and momentum since Mandela's glory days; and also a sense that people make successes in spite of government policies, not because of them. Complete with a restaurant in a container by the old railway station, and a mix of Apartheid-era memorabilia, mixed with Evita Bezuidenhout's taste in kitsch decor, it made for a fun afternoon out.
From kitsch to hippy, in the Eastern Cape region. The area is largely rural, with brightly coloured rondavels dotting the hillsides. This is the area Nelson Mandela hails from and they are clearly very proud of this. In between are non-descript towns with Chinese shops competing with street hawkers to sell cheap everything, and cash and carries from which African mamas with bright headscarves haul out huge bags of maize meal. (See Ven started trying out carry things on his head like an African Mama). In some ways, it couldn't be more African. But along the Wild Coast area are small holiday towns with white sand beaches and dramatic cliffs with fabulous views. The Hole in the Wall rock formation is beautiful but Coffee Bay is where you'll find the hippies and the surfers. We hadn't heard Bob Marley for a long time, and it was strange to see in Africa the tie dye tops and skirts you'd usually find at a beach in Thailand!
Our most recent off-the-beaten-track experience was visiting the Cederberg observatory. The Cederberg is a wonderful nature reserve, not often visited by tourists, but loved by locals. Made up of craggy mountains with weird and wonderful rock formations and open caves, it nonetheless has a vineyard and a small observatory. Most Saturdays, volunteers give lectures on the night sky and help you view the stars and planets through two home-made telescopes called (Big) Bertha and Eugene. The slides are projected onto the building's white painted outer wall and everyone huddles up on wooden benches with flasks of tea or mugs of red wine! For quite basic telescopes, it was amazing to be able to see various star formations, Venus, and even Jupiter and its four moons.
We've also visited some small coastal towns that were once fishing villages. But with pretty white washed houses, beautiful bays, and a relaxed pace of life, it was only a matter of time before the developers moved in and converted these homes into B&Bs or self-catering houses. Rapid development in the boom years has seen these and other small coastal resorts become holiday home ghettos, filling up only at weekends or during the summer holidays. Paternoster has virtually become tourist accommodation, with the local community now living in ramshackle housing a little way from the edge of an ever expanding village. And Arniston has also converted some homes into tourist accommodation, but least many fishermen still live in the old traditional houses which have been spruced up a little and granted National Heritage status.
We've also seen some hilarious road signs and experienced some funny language, especially by Afrikaans speakers. A friend who was sold some fish was asked a few weeks later by the same fisherman, "how's the fish eating?" And we heard the wonderful phrase "lekker lekker tasty biscuits" (really good tasty biscuits) being hollered out by a man on a street corner in the bizarrely named town of Humansdorp. And we love the Afrikaans word "paneelkloppers" – a much more descriptive word for panel beaters!
Many of the tourist roads have 'farm stall' pit stops – small shops selling snacks for the road, and local produce such as fruit, jams, cheeses and household trinkets. Each seems to be trying to outdo the next with its own brand of kitsch, quirky or quaint.
And just to make road work stops a little more interesting, you can look out for the fancy hats the female workers seem to love wearing, completely at odds with their fluorescent vests and worker clothes. Even petrol pump attendants sometimes have a little latitude. We saw one wearing a butternut shaped woolly hat at a jaunty and precarious angle on his head…. in the 40 degree heat!