Finally, a house of our own….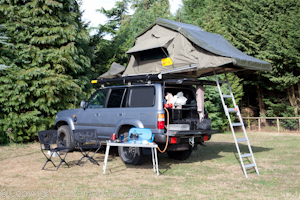 First floor bedroom with balcony. Comes with a good size double bed and ample head room. Unusually, this is a quadruple aspect room and the windows make the most of the ever changing and far-reaching views.  A useful power socket has been installed at the entrance by the current owners.
.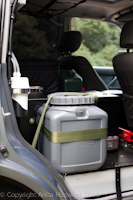 The utility room in the central area packs in the features. On one side is a washing machine (top loading tub style), storage, and under floor water tank with filtration system and pump. At the top, a net has been added to the ceiling for coats, jumpers and other soft items. It can also be used as a washing line when on the move.
.
.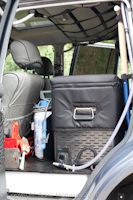 On the other side is a fridge/freezer and hand pumped shower, as well as the tap for the filtered water. The water fountain can be drained from below when it needs to be cleaned. Should the weather turn bad, there is easy access to a jack to raise the house onto higher ground, as well as a shovel to dig a moat for defence.
.
.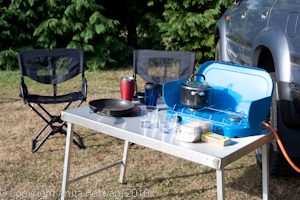 The kitchen is the heart of this home and can easily accommodate as many people, goats, chickens, giraffe etc. as you wish. It flows directly onto the patio, which has a side awning for shade. The beguilingly simple cooker can, in the right hands, turn out Michelin star meals using locally sourced organic ingredients from farmers' markets (see local press for your nearest one).
A separate compact domed Cobb oven can produce succulent roasts, pizzas and banana bread.
.
.
.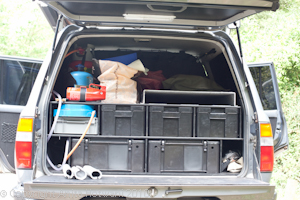 The storage room has been designed to maximise space and flexibility of usage, and also to minimise weight, and to ensure easy access to items at all times. The free standing boxes double as guest seating and are extremely durable. Their unassuming appearance makes them blend in effortlessly with the retro 90s interior. A panel on top of the boxes houses the table and chairs, which are cleverly designed to fit snugly into each other when folded. There is speedy access to them using the Easi-Glide method.
For ideas on how to create your dream home, please contact our Peterborough based architect, Paul Marsh, at Footloose 4×4. Paul and his talented and creative team (Jules, Chris, Bob, Graham and co.) are a full service agency – from searching for your property to minor refurbishments to rebuilds. With years of experience in the industry and on the road, they offer a host of useful tips besides!
www.footloose4x4.com
T: +44 (0) 1733 362 999