Khartoum, Sudan. Having seen history in the making in Tunisia and Egypt, the Libyans thoughtfully delayed their revolution until we left. We are grateful, because once they got going the situation in Libya deteriorated fast. I suspect that people won't be doing the route we've taken for some time, which is a shame as there are so many interesting things to see along the Libyan coast. Instead we are in the safe haven of Khartoum, Sudan!
The only overland route currently possible between Egypt and Sudan is by ferry along the Nile. Not quite as romantic as it sounds when you see the passenger ferry, and even more heart stopping when you see your car sail away on a separate open barge. Still, on the journey from Aswan in Egypt to Wadi Halfa in Sudan we did get to meet lots of camel traders. They claim that Sudan has the best camels and so they take them to Egypt to sell. It takes two months to take the camels to the market just outside Aswan. They then take the ferry back to Sudan. They'll do this about 5 times a year. A camel costs about $US1000 in Sudan, and they can sell it for $US1500 in Egypt (roughly roughly). As traditional as this sounds, it has to be said that they were all on their mobile phones the minute we had any sort of signal! We saw a camel train whilst we were driving through Egypt. It was sticking close to the road, so I suspect the guy leading it had a good signal all the way.
We also had fun with the other foreigners on the boat. We all seemed to have bought the same gourmet food for the journey: La Vache qui Rit, bread, water and Pepsi. Maybe they should give these out in party bags when you get your Egyptian exit stamp.
Whilst waiting in Wadi Halfa for our vehicles to arrive, we drank spiced coffee made by Selma and watched the colourful tuk tuks ferry people around. Thankfully the cargo barge arrived later that afternoon. Ven managed to negotiate a deal with the local 'fixer' to get customs to stay open a bit later than usual so we could get our paperwork done immediately rather than wait until the next day. People often wait 2-3 days in Wadi Halfa for their vehicles to arrive and be unloaded, so this was really good news.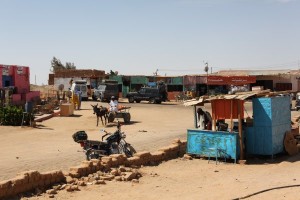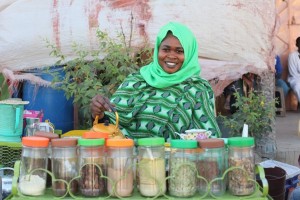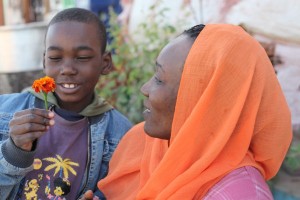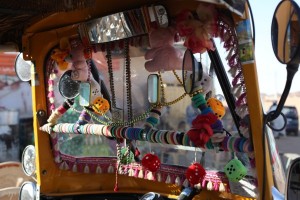 The road from Wadi Halfa to Dongola has some lovely villages. The houses have rooms built around a courtyard. The colourful doors and windows are striking against the plain mud walls. Just as I was taking a photo, a gentleman came out to see what was going on. "I'm so sorry", I apologised, but in true Sudanese style, he was in fact delighted to see us. "Come in for tea"! This eventually turned into breakfast of foul (bean stew), tomato salad, yoghurt and injera, and a lovely long chat about his time in London when he was working in the kitchen of the Saudi Embassy! He was also saying how many houses in the villages lay empty as people had gone to live in Khartoum or even overseas. Interestingly, they don't have a lot of possessions in their homes, but they do have satellite TV!
We drove along the palm fringed Nile, which has hundreds of ancient ruins. We also made a few more friends. I practised my goat buying skills. And Ven was a hit with the ladies!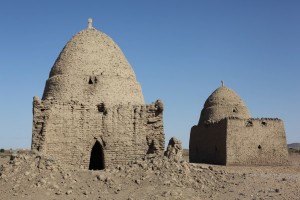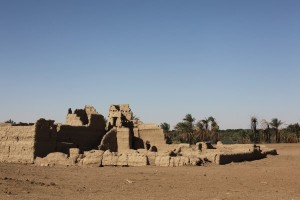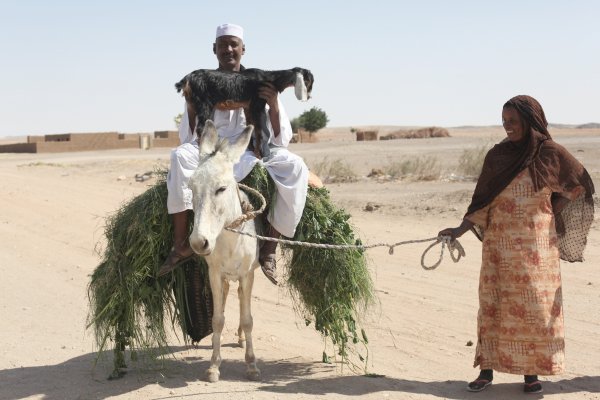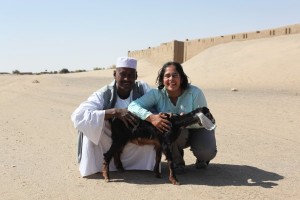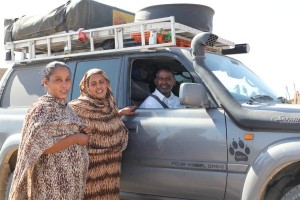 We visited the Temple of Soleb on the other side of the Nile, taking a boat from Wawa. The pillar carvings were beautiful but our boatman was far more interested in all the text messages he was receiving!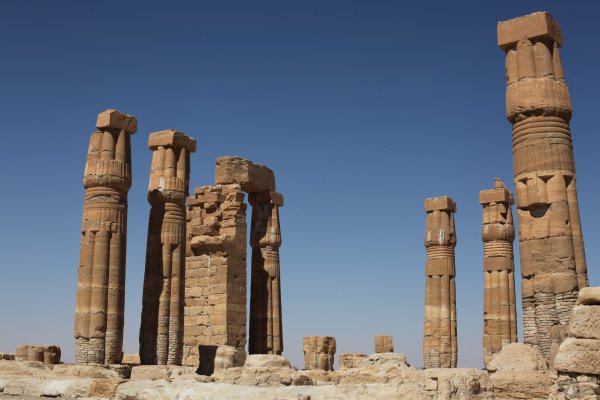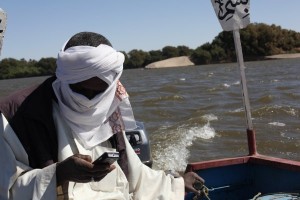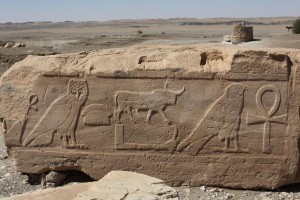 The next big town we came to was Dongola. Ven has become an expert vegetable buyer as we travel through Africa, and the local stall holders love chatting to him. The produce was good and the people really friendly. We met some more camel traders who have an interesting line in footwear. And we loved this guy's motorbike!
Modern Sudan is on the site of the ancient civilisation of Nubia and pre-dates Pharaonic Egypt. There are pyramids and other ancient sites dotted around the deserts in the north. Whilst not as grand in scale as the ones in Egypt, they have picturesque settings and we often had the sites to ourselves. We saw a lovely sunset at the pyramids by Jebel Barkal, a huge sacred mountain for the Egyptians at the time of the 18th-dynasty Pharoahs. And then off the next day down a dirt road and through some villages to see the tombs at El Kurru. Of course, the guardian was having breakfast, so we hung around with the local policeman until he showed up. The twin tombs are cut into the rock and contain some beautiful paintings.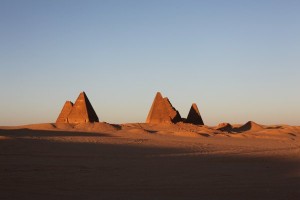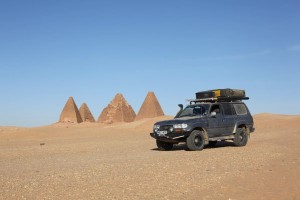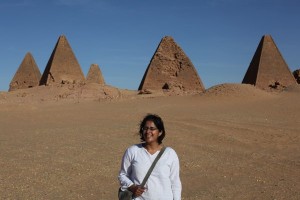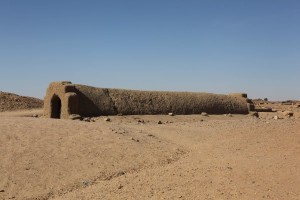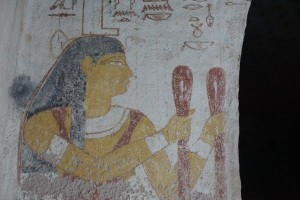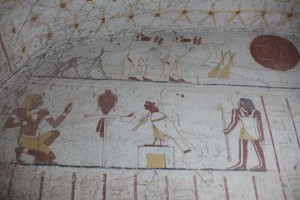 There have been good opportunities to bush camp off the road from Wadi Halfa to Khartoum and we're loving our roof tent!  We especially enjoyed camping behind a dune where we had a fabulous view of sunrise over the Meroe Pyramids. Not as big as the pyramids in Egypt, but they have a picturesque hilltop setting surrounded by desert. We also enjoyed the temple at Naga with its beautiful carvings and avenue of lions. During the heat of the day, we watched the camels, donkeys and cows make their way past us to the watering hole. The guardians at both sites were pleased we could charge their mobile phones in our car as they have no electricity in their huts!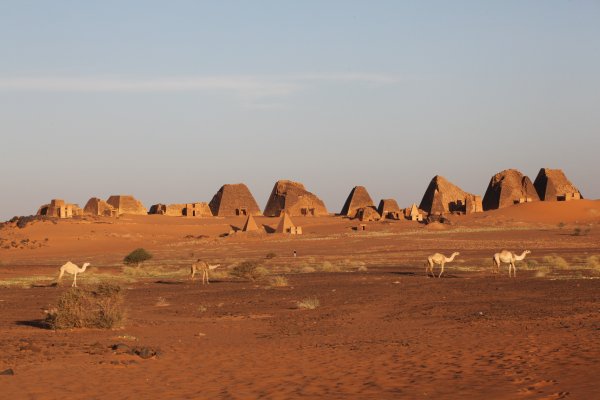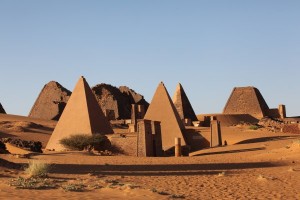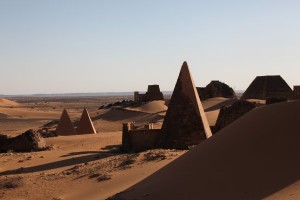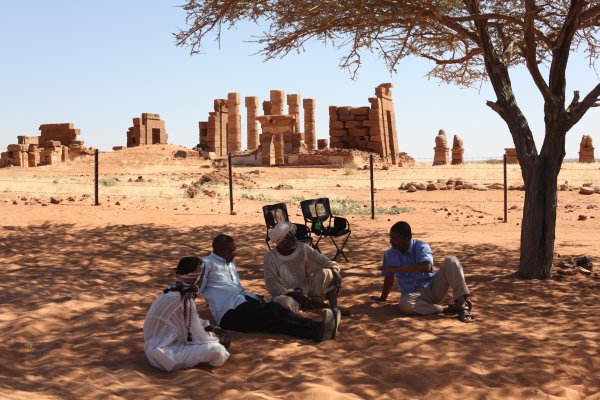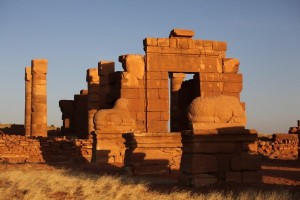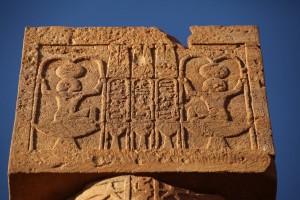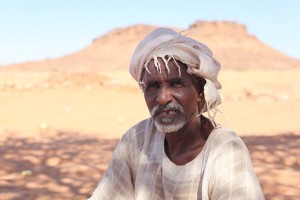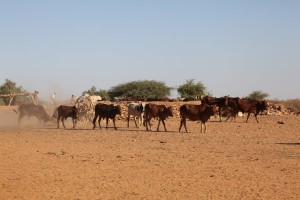 Less picturesque, but also less mozzie infested than the camp site alternative, our Khartoum location of choice has been a local garage. A bus grazed our bumper so off we went to repair it. The garage is quiet at night, has a clean loo and cold shower, and has 24 hour army protection next door. What more could a girl want? And the guys in the workshop have been fabulous, always inviting us to join them for their communal lunch of bean stew, bread and salad. I'll be writing to Relais & Chateaux for its consideration in the next brochure featuring specially selected accommodation in Khartoum. Or maybe I should just write a rival publication: "Mr and Mrs Smitharamachandrun – Unusual and Creative Accommodation on the Revolution Route Through Africa". The garage owner took pity on us after a few days and invited us to stay at his place. The hospitality has been amazing. He has an incredible collection of tropical fish, so it was like sleeping in an aquarium, except with gourmet (non-fish) food on offer.
The campsite was a good place to meet other overlanders though, and we caught up again with the three young German lads we first met in Aswan. We also met Paul and Julia from Germany. If you thought our vehicle was big, take a look at what they're driving!