Egypt Due to various revolutions, our posts have been somewhat erratic.
Still, it's worth saying that in between dodging demonstrations and
tear gas, we did actually get to see and do some interesting things in
Egypt.
The first of which was to learn a few words of Arabic at the border
crossing. After all, we were there for 6 hours… what else would you
do?!? The Libyan side took about an hour and some nice friendly
policemen waved us on our way. Another hour was spent waiting for the
bank to re-open so we could buy our entry visas for Egypt. And another
4 hours was spent doing the paperwork for our vehicle to enter Egypt.
The Egyptian border crossings are notorious amongst overlanders. In
essence, the process involves walking a total of 2km back and forth
from 3 buildings, generating a tree of paperwork at each stop and
adding it to the folder you have acquired, occassionally paying some
money, often trying not to get fleeced, having a rubbing taken of your
vehicle's chassis number (yep, the kind you usually do at St Paul's
Cathedral when you're five years old), shaking 20 people's hands an
hour, smiling for four hours non-stop, and at no point questioning
whether this is sane. At the end of this circus performance your
carnet (vehicle's passport) is stamped and you acquire a local driving
licence and Egyptian number plates. All your paperwork is added to the
Billy bookshelf marked '2011' in the last office as you leave.
After that experience, we spent a few days relaxing in Zamelek, a tree
lined Cairo suburb with cool restaurants and trendy bars. Every day
the old men would ask if we wanted a taxi ride. Every day we would
shrug them off and go to our vehicle parked around the corner. They
fell about laughing the last day when we brought our vehicle round to
load up. "Ahh, big taxi! Good!"
And when we did get into a taxi, the internal decor was very amusing!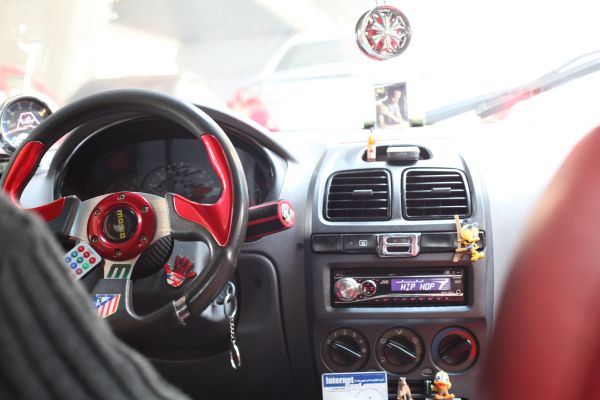 We also wandered around a less visited area of Cairo, Qaitbey, where
we saw a mosque with a beautiful dome and stunning mosaic windows.
As the tanks rolled into Cairo, we rolled out, heading towards Siwa, a
desert oasis that Ven has wanted to visit for 20 years! The views
across the palmeries from the top of the old fort are beautiful and
there are some nice trips into the desert from here to the hot and
cold springs. But more than that, thanks to its compact size and
relaxed Siwan vibe, it's the sort of place you can spend days just
hanging around getting to know people, drinking mango juice and
smoking shisha. It's perhaps how Pokhara or Cuzco may once have been when they first became part of the tourist circuit. As the internet
had been shut down in Egypt by this stage, people got to know each
other well in Siwa, exchanging news at Abdu's restaurant with
travellers newly arrived from other cities before the roads got
blocked off, or huddled around a shortwave radio listening to the BBC
World Service at Mustafa's cafe. Mustafa and Mona, cool young
Alexandrians, who grew shitake mushrooms and ran a relaxed cafe, were ever helpful with inside information. This included the top tip of
filling up our tank. That evening, queues built up at the petrol
station and the next day the army took it over and started rationing
fuel via a coupon system.
As lovely as Siwa was, the unpredictability of the situation in Egypt meant we were keen to hit the road to Aswan and get onto the ferry to Sudan. The road out of Siwa needed a permit and you either had to travel in convoy or have a local with you. "You can rent a boy if there's no other cars going" said the permit man. Fortunately Mahmood, a desert guide, was leading a group of cars the next day so we joined them. No rented boy needed.
Mahmood rebuilds his 4x4s every 2 years. When you follow him in convoy, you can understand why. His speed on a UK motorway would warrant a court appearance. Yet he thought it perfectly normal to drive at this speed along 240km of gravel roads, desert pistes and sand dunes. "Hey India!" (No one can pronounce even the shortest
version of Ven's name). "You drive too slow!" What we had to explain to him when we caught up at the third checkpoint is that our car weighed three times as much as his as it had our home in it, not just two tourists like his.
We left Mahmood at Bahariya and followed the oases route through the
desert, camping next to various hot springs. En route we drove through
the Black Desert, with its sandy ground covered in eroded rock from
the black mountains; and then through the White Desert with Dali-esque
limestone rock formations. We also stopped off at Al-Qasr, a restored
medieval/Ottoman town made of mud bricks.
Arriving in Aswan, with protests in Cairo reaching their peak, our
vehicle raised some concern when it was parked near the local police
station. A detailed rifle through the spice box ("yes, that's dukkah
from Egypt!") and washing box seemed to help, but I think they still
went away wandering if the spare tyre on top was a satellite dish and
the roof tent was a communications hub!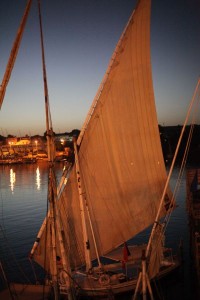 The next couple of days were spent with exit admin… Traffic court,
ferry tickets, traffic police to return licence and plates. It all
involves a lot of hanging around.
Currently, the only crossing from Egypt into Sudan is by ferry from
Aswan to Wadi Halfa. Passengers go in a boat, and cargo and vehicles
go in an open barge which usually arrives a day later. It was
reassuring to see our car being strapped down, but unnerving to see it
sail off into the distance. I'd be happier when we see it at the other
end!
The passenger ferry is a great place to meet other travellers and also
a first experience of the incredibly friendly Sudanese. From camel
traders to mobile phone battery dealers, we met them all!