Libya. After our eventful exit from Tunisia, we were hoping that Libya would be a safe haven from the drama. We weren't disappointed, and once again Libya has been an amazing experience, characterised by incredible hospitality and beautiful sights set along its coastline.
Everyone on a tourist visa to Libya needs a guide throughout their visit. However, as we managed to get a one week transit visa, the Libyan immigration officials seemed to take pity on us as we had no guide to help us through the border formalities. We were allocated a helpful policeman who took us from one building to the next sorting out paperwork for us and our car. This included exiting the border control area a couple of times to sort out car insurance and local number plates, before going back in again! An hour later, new number plates attached with duct tape and string, we were on the road, with a week to get to the Egyptian border.
As we'd been to Libya before and seen the amazing cities of Sabratha and Leptis Magna as well as its breathtaking desert, we drove for two long days to get to Tolmeita, a 4th century BC city, east of Benghazi. The drive included our first sand storm where visibility was only a few metres ahead – very atmospheric! We camped at the entrance to the Tolmeita ruins and were invited to dinner by the guardians at the site. What a feast – fish, chicken, pasta – and warm conversation with them and two friends who were visiting. The following morning we were also treated to breakfast, yet they wouldn't take a dinar for any of it. We had the ruins to ourselves the following morning – what a treat.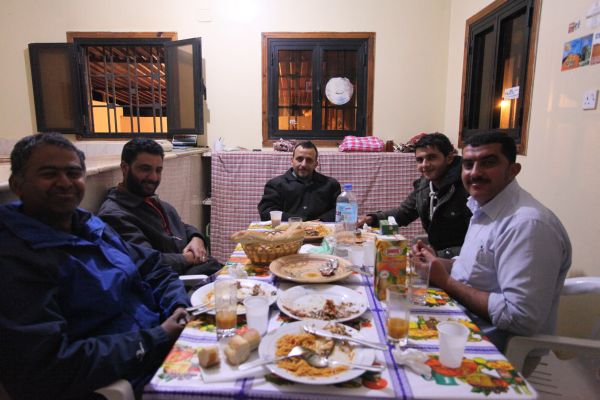 Then off to Qsar Libya where we visited the small museum that houses a beautiful collection of Byzantine mosaics that were discovered in 1957 on the floor of the adjacent church. The fifty 0.5 sq. meter mosaic panels were laid in AD 529-540 and include a panel showing a rare depiction of the Lighthouse of Alexandria, one of the Seven Wonders of the Ancient World (Ven occasionally tests me to see if I can still name them all!)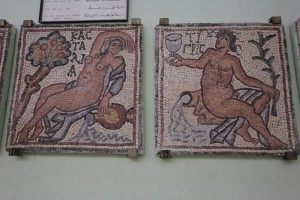 The next morning was a visit to Cyrene, Libya's most complete ancient Greek city. Wow! Founded in 631 BC on several levels on an elevated rocky perch, and overlooking the Med, you really can get a good sense of what the city may have been like. There are two main areas of buildings across the site, and the Temple of Zeus stands a little apart. Quite a structure. We thought that this would be a nice quiet spot to attempt to take a picture of the two of us….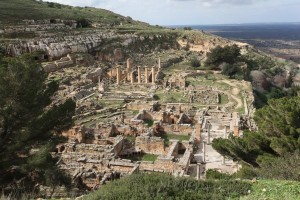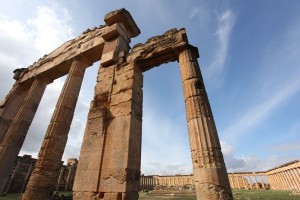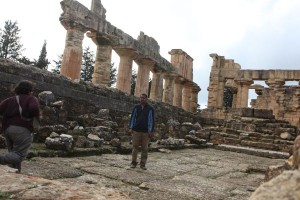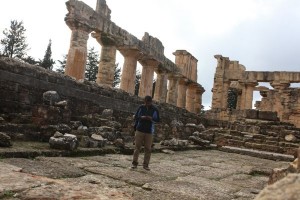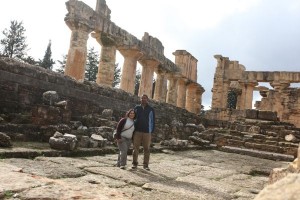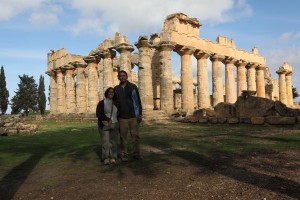 Still going east towards the Egyptian border, our last sightseeing stop was Apollonia, a Byzantine city runs for a kilometre along the coast. It was Cyrene's port, but the earthquake of AD 365 saw it disappear into the sea. Some of the marble columns remain standing, but the highlight is the remarkably intact Greek theatre at the end of the walk with beautiful sea views to distract you from boring plays!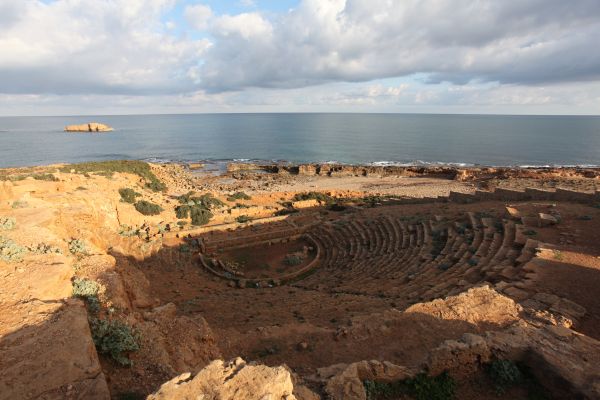 As for the people, not having a guide allowed us greater interaction with Libyans, who were always polite, helpful and welcoming (the fewer the tourists, the more welcoming the country?) It did mean we probably spent a few minutes more en route at police stops whilst our docs were checked, but even those and the morning and evening visits from Crockett and Tubbs were remarkably pleasant interactions.
They always approached us just after we arrived anywhere and just before we left, mainly to say hello, check docs, make sure everything was OK, and check where we were going next (presumably so Starsky and Hutch could be ready and waiting at the next stop!) When we asked one hotel where the police station was to complete our registration, we found the policeman was right behind us, ready and waiting to take us there in his pick up!
Further on at one of the roadside stops, the police officers invited us into their living quarters while they checked our passports. What a funny pair they were – the serious one trying to check our documents and the comedy one taking photos of us on his phone, and then spraying on his deodorant and combing through his Brylcream as if getting ready for a big night out. In reality, he wasn't going anywhere and would probably be at this post for at least another week! Not quite what we needed when the light was fading fast and we still had some kms to drive, but still, an unforgettable moment!
All in all, another amazing visit to Libya.