Some people have A and B lists of sights to visit during their holiday. The seemingly never ending wait for our Libyan visas meant we were well into our Tunisian D list whilst making a Plan B for our Africa route if our visas didn't come through. Still, there were a few gems which we otherwise would have missed, and we did get to perfect our mad over-taking techniques on the Tunisian roads. (It's a two person effort as we're in a right hand vehicle on the right hand side of the road!) In between embassy visits we hit the souq in Tunis. I loved the old wooden doors with their peeling paintwork and also turning a corner and unexpectedly seeing pretty tile work around a scruffy cafe door.
Once we managed to get a phone number at the Libyan Embassy to periodically call, we hit the road again and explored the north and west a little, and used El Kef as one of our bases (where we spent an uneventful New Year!) We really enjoyed the Roman city of Bulla Regia, with the remains of underground villas and beautiful mosaics on the floors. And also the views across to Algeria from the top of Jugurtha's Table. We then headed south again to visit some of the hilltop Berber ksour (grain storage buildings). Bir Soltane was was particularly impressive.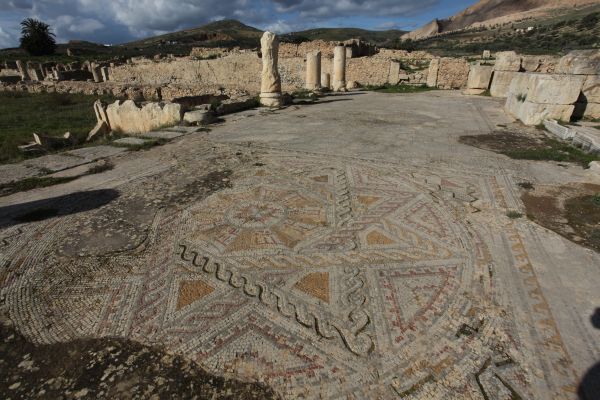 And then on to Matmata, famous for its underground troglodyte homes and for being the setting for Luke Skywalker's home planet. Matmata milks the Star Wars connection to the max with touts on motor bikes ready to show you around as soon as you enter town. Any troglodyte building with the vaguest connection will cobble together a few props and put them on display – not quite the film sets the brochures promise! Having said that, getting to Matmata is a real treat as the folding mountain landscape between Ksar Hadada and Matmata is stunning.
We couldn't leave Tunisia without going to the beach, so we stopped off at the island of Jerba, taking the short car ferry ride and staying in its main town, Houmt Souq. Finally the temperature was warming up and we made the most of its shady courtyards and cafes. We also stopped off at the sleepy seaside town of Mahdia, further up Tunisia's coast (only to find out later that it was the scene of a jailbreak during the revolution. Not so sleepy after all!)
Less remarkable was the Tunisian food. How come there's lots of lovely vegetables in the markets but the restaurant owners don't seem to be buying them? We had more veg in a steak house in Tunis than other places put together! Some towns are better than others, but street food has little variation on the pizza, schwarma, or chicken and chips combination. One alternative has been stuffed chapattis. (Where has this come from when there aren't any Indians here?!?) They're a cross between a large muffin and a crumpet stuffed with a herb omelette, tuna, harissa and fresh cheese. Yum!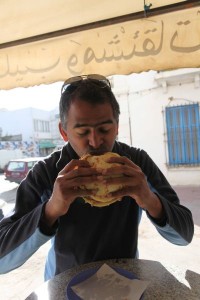 We've been shopping at small local grocery stores with little variation in what they offer. I almost got stage fright the first time I ventured into a big supermarket after a few weeks on the road. I had to stand in awe for a minute or two in front of the choice available – real cheese, wholewheat baguettes, smoothies…. Surprisingly, the Tunisian alcohol is better than its food!
Beer-ometer: Celtia (pronounced Seltia) 6/10
Wine rating: Magon rouge 9/10 Wow! With grapes from near Carthage, the wine has definitely been the culinary highlight.
Finally, we loved this road sign. Any suggestions as to what it could mean?