The Moyale to Marsabit road is notorious amongst overlanders. It used to be known for banditry, and you needed to travel in convoy with a police escort. Now it's relatively safe, but it still literally sends shudders through you and your car, with its combination of corrugations, potholes and mud ditches. The 240km took us 6 hours to drive! Anyone with time and patience could collect enough spare parts along this road to start a shop. Everyone has a story from this road of something having fallen off, shaken loose, or broken. We are no different.
Our gear stick was shaking so violently that Ven was holding it down in case it flew off. And the noise level was such that we didn't even hear the bracket of our side step fall off! Fortunately we met Aku in Marsabit who ran a hardware store and could patch up any things that had shaken loose. He also makes a fabulous egg curry to which we were treated for supper – not bad for our first night in Kenya! We would later discover that this kindness and hospitality would be typical of our experience in Kenya.
The road south passes through some amazing scenes of village life. People in colourful tribal clothing walking into relatively modern grocery stores whilst talking on mobile phones – all rather surreal! The Masaai warriors, known for wearing distinctive red check kikois (wraps) and sandals made of tyres (or Nike trainers in recent years), now also carry mobile phones alongside their spears. The look is completed with a jerry can filled with cow's blood, which is apparently what they drink and is very nutritious. My view of tribal life was further changed when we later visited the large knitwear factory that churns out the red kikois in their thousands – so much for the homespun Masaai fabric that tourists think they are buying as souvenirs! At least it's not made in China like many of the 'African' wood carvings, paintings and other fabrics made for tourists….
Kenya is like a breath of fresh air if you're travelling across Africa from North to South., especially after Ethiopia – it has proper campsites, running water, and even hot water showers. What luxury! It's also the place where you meet a lot of other overlanders. There's plenty to do, and people tend to spend a fair amount of time here stocking up, fixing their car, and generally just relaxing. There's also no obvious route around the country and people go where their interests lie, whether it's wildlife, nightlife or island life. As a result, we bumped into people we knew at various campsites, either having first met them in another country (like Lucy and Rory in the Frankfurt Airport fire truck who we had met in Ethiopia and now met again by beautiful Lake Naivasha) or even people who had been on the road for longer than us and whose blogs we had been reading back in the UK!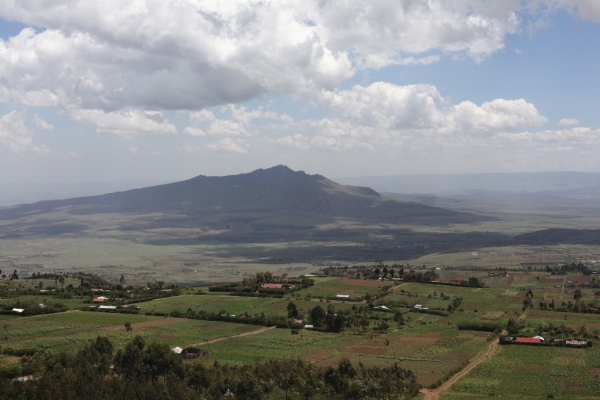 One of the most memorable campsites we stayed at was in Eldoret, run by the formidable Raj Shah. With hair styled in a mohican, a fire engine red Land Rover with a Red Indian head at the front, and a pack of six dogs following him around, he's not to be messed with. He comes to the campsite at around 6pm to feed the gaggle of geese that squawk around the place, and then props up the bar every evening from 9pm with some interesting stories to tell. Raj's family also owns a large knitwear factory (a small part of which makes those red Masaai kikois). He kindly invited us to a family lunch to meet his brothers and mother. By coincidence we arrived at the family home just in time to watch William and Kate exchanging vows in the royal wedding. The Kenyans we met were particularly excited and proud that William had proposed to Kate in their country and that Kenyan flowers had been sent over for the wedding. The lunch involved various brothers and family friends stopping by to say 'hello' and to grab a bite to eat. People flitted from one conversation to the next, inter-weaved with answering phone calls and responding to emails from their Blackberries. Ven made a passing comment about people's short attention spans. For those who know Ven, please note that there was no irony in his voice….
Raj was our first exposure to the incredible hospitality that various Shah families would show us throughout Kenya. The numerous Shah families came from Gujurat in India three or so generations ago and have built up successful businesses all over East Africa.
Not far from Eldoret is Kisumu, on the shore of Lake Victoria, where we delivered a suitcase full of school books donated by the school of Ven's nephew. The children often walk a few kilometres to school on roads that fill with water during the rains. The classrooms are simple buildings with long wooden tables and benches, and class sizes twice that of schools in the UK. Water is pumped by hand when needed and every week the kids bring in their pangas (blades) to cut the grass on the school grounds. Can't imagine those getting past the security gates at schools back home!
Nanyuki, south of Marsabit and close to the equator was where we first realised just how sophisticated things in Kenya could be. At the Cape Chestnut, a beautiful colonial house with a large shady veranda, we had scrambled eggs and smoked salmon for breakfast (the first time since Patisserie Valerie back in London!) while listening to an octogenarian greet our waiter in an English accent you now only hear Dame Judi Dench using in period drama. "Good morning, John. My usual please. And is there any post for me this morning?" she asked. Nanyuki felt more English than England. And with the British Army expanding their base there (pre-Afghanistan training apparently), it will probably remain so. We saw eight women in orange tribal dress strapped with harnesses into seats on the side of a British Army lorry, laughing and singing away. Maybe it's 'interacting with the locals'-type training they are doing there….
Another reminder of Kenya's sophistication came when walking into a supermarket at Westgate shopping mall in Nairobi. Having just travelled through Sudan and Ethiopia where the local grocery stores are 1m2, we stood for a good minute at the entrance of the supermarket marveling at the rows of toothpaste, cereal, fruit juice…. We hadn't seen such a vast selection in months!
Nairobi was also where we had our first experience of the Great African Cook-Out, courtesy of another Shah family. It's done at a venue which provides everything you need to cook a big feast with family and friends: enormous saucepans, fresh meat, fish and veg as needed, a variety of spices, and coals for cooking on. Freshly made, piping hot chapattis are delivered to your table. Typically, the men take charge and the women and kids natter. And if there's too much food cooked up, it's given to the adjacent table which will inevitably be someone you know. The best bit is that the venue does all the washing up!
We were reminded to keep an eye on our vehicle at all times in Nairobi. Even though we had strapped down and bolted everything removable, we clearly hadn't gone as far as many Nairobi residents…. in 'Nairoberry' even wheel hubs, wing mirrors and headlights are bolted in place lest someone decides to start a spare parts shop on a nearby street corner.
When we left the vehicle once in someone's safe-keeping for a few days, they kindly washed it for us. Given the amount of dirt on it, this is no easy task. Afterwards they commented, "we thought your vehicle was green, but when we washed it, it was actually grey!"
Our travel amongst the Shahs of Kenya took us to Thikka next, about an hour out of Nairobi, to a coffee farm owned by the father of a good friend. What a privilege to be shown around and to learn about how coffee is grown. We were lucky enough to be there during the coffee harvest and saw the pickers come in and sort through their day's work, separating the just ripe beans from the under and over ripe ones.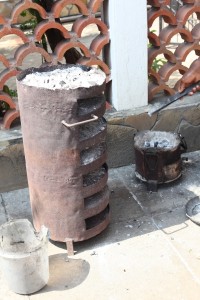 After a circuitous route via Uganda, Rwanda, Burundi and Tanzania, we finally made it to Mombasa on the Kenyan coast, and the last stop on our travel amongst the Shahs. It's a small, bustling, traffic clogged city with lovely colonial buildings that are crumbling away. It's also an incredible melting pot of cultures from Africa, Asia and the Middle East, and everyone wears their traditional dress so it's a real riot of colour and head gear, not to mention a foodie's paradise. Staying with the family of a good friend felt like a home from home. In fact, better than home given how well we were looked after! And we also got to have the Kenyan pizzas we had heard so much about from friends. They're cooked in a 'jika' a multi-layered barbeque, with layers of charcoal alternating with the pizza shelves, so you can cook 3 pizzas simultaneously.
We were sad to leave Kenya – the hospitality was incredible and there's so much more to do. We're already planning a return trip! And of course, a huge thanks to all the Shahs we met, and especially the families of various friends that have been so kind to us on our travels around Kenya!