Tunisia After an inauspicious arrival on a cold, wet, windy night at the La Goulette Port in Tunis, we headed south in search of warmth. But not before half a day spent in Tunis applying for our transit visas for Libya – a process that requires a visit to the Libyan Embassy, the British Embassy, and an Arabic translator – repeat steps until visa arrives. This gave us a good unguided tour of the city – for the most part modern, and growing rapidly in every direction, but without the frenzy that typically accompanies it.
Next stop was Kairouan, considered the holiest Islamic city in North Africa, which, though past its 8th century prime, has an impressive mosque and medina.
Pushing  on south west to Tozeur, and skirting the edge of the Sahara, we first crossed the Chott El-Jerid. This vast salt lake is over 40km across, and a causeway cuts through it. Driving on this featureless flatness required a some concentration…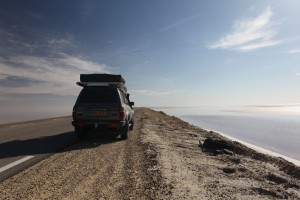 Usually, this salt lake is bone dry, but recent rain had made for some beautiful reflections of the distant mountains.
And finally, in Ksar Ghilane, an oasis situated at the edge of the desert, we had our first taste of dune driving in our not so nimble 3 tonne Landcruiser. Despite not taking the usual step of lowering the tyre pressure, it was fun in that heart in your mouth kind of way as you crest each dune without being able to see anything but the sky at the top. A longer trip into the desert will have to wait until Egypt.
Neaby Chenini has some of the best Berber cliff dwellings in the country, clinging precariously to the side of the rock face.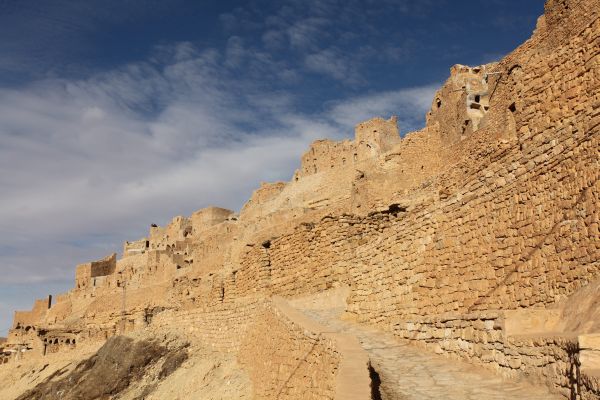 Back in Tunis, it was time to drop in on our friends at the Libyan Embassy, where, between our French and English and the staff's questionable Italian and Spanish we came to realise that our lack of Arabic would prove no great obstacle when it came to conducting essential travel bureaucracy. However, a visa is still making its way across the sands from Tripoli, and so we are off west to Dougga tomorrow to visit some Roman ruins. Carthage, incidentally which is close to Tunis, had already been visited by the Romans, who appear to have taken an extreme dislike to it, and have left the modern day tourist with just a pile of stones.